Are you looking for the best SEO software, website auditing tool, keyword research tool or backlink analysis tool? If that's the case, you've probably heard about two of the most popular tools: Semrush and Ahrefs.
Both have outstanding features and capabilities that can assist you in optimizing your website for search engine results. But the question is: which one is most suited to your requirements?
Well, to answer this question, we have prepared this guide, where we compare Semrush vs Ahrefs, and help you decide the ideal option for your marketing needs.
We will evaluate both SEO tools in terms of the following:
Quick Overview
Feature comparison
Pricing Details
Customer support
Ease of use
Free Trials
Pros & Cons
So, without much ado, let's dive straight into the comparison.
An Introduction To Semrush
Semrush is a digital marketing software that assists businesses in managing online marketing strategies like SEO campaigns. With the help of this all-in-one tool, you can manage campaigns for PPC (pay-per-click), SEO, social media, and content marketing.
Furthermore, this tool will help you spot trends in your business niche, audit your on-page SEO, and assist you in optimizing your web pages. This will help you better understand your website and improve it for SEO to increase lead generation.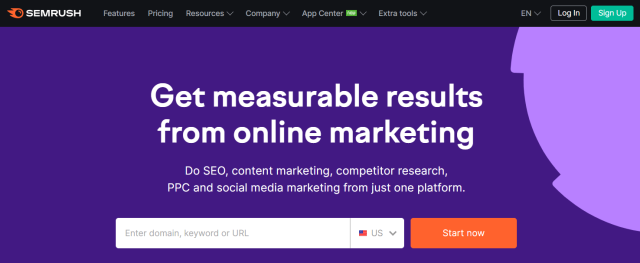 Apart from this, Semrush also assists you in uncovering profitable keywords for your content. You will discover the search engine rankings of your competitor's websites and the keywords they use. Overall, it provides you with a wealth of information on how you can outperform your competitors.
Moreover, this software is recommended for those that require help with their digital marketing campaigns. Semrush is a very user-friendly tool that makes it easy to understand and apply SEO techniques, even if you have little knowledge or expertise.
An Introduction To Ahrefs
Ahrefs is an SEO tool that helps businesses or individuals with the search engine optimization of their websites. It is currently one of the most well-known SEO tools on the market, and millions of businesses use it, including big names like eBay, Shopify, LinkedIn, Adobe, Uber, and Facebook.
With the biggest backlink index in the world, Ahrefs offers you the most distinctive features. Moreover, Ahrefs will help in discovering targeted keywords and generating organic search engine traffic.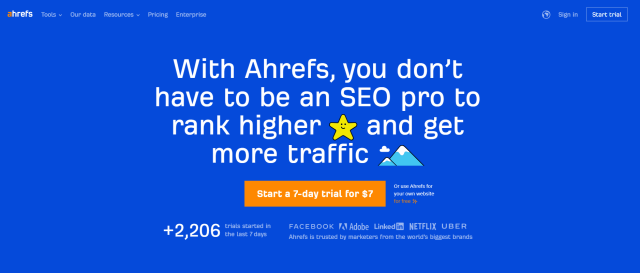 In addition to keyword research, it offers tools for rank tracking, site auditing, and backlink analysis. They provide users with information on how to increase their traffic organically.
Overall, Ahrefs is best suited for marketing professionals, content writers, and web publishers.
A Quick Comparison: Semrush vs Ahrefs
Here's a quick comparison of both tools.
| | | |
| --- | --- | --- |
| Key Factors | Semrush | Ahrefs |
| Supports search engines | Supports Only Google | Supports 10+ search engines including YouTube, Google, and Bing |
| SMM Tools | Semrush offers SMM Toolkit to manage and keep track of all your social media profiles. | Ahrefs lacks an SMM tool. |
| Free Trial | Semrush offers a free trial for 7 days. | Ahrefs doesn't offer a free trial. |
| Pricing | Starts at $119.95/per month | Starts from $99 per month |
Feature Comparison: Semrush vs Ahrefs
In this section, we will compare the key features of both SEO tools to help you determine which is the best option for you.
1. Site Audit
The site auditing feature allows you to evaluate how well your website is performing in terms of technical SEO and on-page SEO. Both Semrush and Ahrefs offer this feature.
Semrush
You can perform a complete SEO audit and measure the SEO health of your site using Semrush's Site Audit tool. It will provide you with a list of issues with your website. In addition, issues are categorized according to priority and page number. Further, you will also get suggestions on how to fix specific issues in order to improve your SERP rankings.
In addition, Semrush identifies more than 130 SEO issues, including, meta descriptions, title tags, h1 tags, and technical problems like conflicts in page source code and sitemap.xml format errors.
Ahrefs
The Site Audit tool from Ahrefs scans each page on your website for 100+ SEO issues. You will then receive a list of all potential SEO issues, an SEO health score, charts with key data, and suggestions for resolving them.
2. Keyword Explorer
It's a keyword research r tool that helps you to find keywords that are easy to rank.
Semrush
The Keyword Magic tool from Semrush offers filterable data on each keyword with results that are easy to understand, even for new users. You'll notice "search intent" indicators next to each result. These include informational, commercial, transactional, and navigational purposes.
Its Keyword Analytics feature provides information on search traffic trends, and Keyword Magic bases its statistics on the domains' authority in the search results to calculate the percentage of keywords difficulty.
Unlike Ahrefs, Semrush does not offer click metrics. It provides statistics and data for pay-per-click advertising campaigns instead.
Ahrefs
The keyword explorer feature of Ahrefs is excellent. It is not limited to only Google searches; it integrates with sites like YouTube, Amazon, and international search engines like Yandex, Baidu, and others.
Using this feature, you can extract keywords from sites like YouTube, Amazon, and all of the major search engines, such as Google, Baidu, Bing, and Yandex. When you enter a search term, you will get a detailed summary of keyword metrics like Keyword Difficulty, CPC, Search volume, Clicks, global volume, etc.
3. Rank Tracking
Semrush and Ahrefs both work incredibly well as position-tracking tools.
Semrush
The Rank Monitoring tool of Semrush keeps track of the daily average position for your keywords. Semrush lets you quickly get any information about your keyword position and any changes it has undergone over time. Semrush offers historical data, enabling you to view this over an extremely long timeframe compared to your current performance.
Also, you can add any competitor's website into the tool to compare your performance to theirs for the keywords you both are targeting. Furthermore, Semrush lets you set up alerts so that if your rankings change, an automated email will be sent to you to notify you.
Ahrefs
You can track your ranks with Ahrefs' rank tracker tool. Also, we would like to highlight that you may only monitor the ranking of websites added as projects. The pricing plan to which you are subscribed determines how many projects you are allowed to add. This might be a little restrictive, especially if you have a lot of sites to manage in terms of SEO.
4. Backlink Analysis
A site's backlink count is a significant factor in its performance. Both Ahrefs and Semrush allow you to enter a website's domain name and provide a list of all the backlinks pointing to it.
Semrush
Using Semrush's backlink analytics tool, you can determine which domains are linking to you, the nature of the links, and how they impact the domain authority. Although its backlink tool isn't as strong as Ahrefs', it still does the job and is fairly excellent.
Ahrefs
Ahrefs has the world's largest backlink index and the best backlink checker. It highlights the Referring domain, Dofollow, and Nofollow links in red colour. Its bot crawls 54 billion active web pages in real-time, and its index is updated every 15 minutes with the latest data.
Which Tool Has The Best Customer Support?
Customer support service is often a crucial factor for users because SEO tools like Semrush and Ahrefs can be complicated to use.
Semrush
You can email support requests or submit a form with your request if you need assistance. A response is typically sent within one business day. There is also a chatbot available that you can use to get prompt responses from their customer service agent. To use this channel, you will need to log in to your Semrush account.
Semrush also provides a knowledge base that covers a wide range of topics and offers solutions to many questions you might have about getting started or utilizing any of their services.
Ahrefs
When you enter the Ahrefs dashboard, you will see a speech bubble at the bottom of the page that leads directly to their help page.
Here you will find various help guides that contain instructions on how to start, details on account access and billing, and instructions on how to use each of their features or tools. It is quite detailed and will answer the majority of common queries. Email and live chat are other ways to get in touch with their support agents.
Pricing: Semrush vs Ahrefs
Semrush and Ahrefs are quite pricey in comparison to other kinds of SaaS tools. But it makes sense since you're not just paying for features but also paying for access to a ton of data, including a lot of crucial competitor information.
Semrush
Semrush has three pricing options for businesses of all sizes.
Pro: This plan is ideal for small teams and individuals. It will cost you $119.95 per month. With this plan, you can handle five projects, track 500 keywords, and take advantage of all SEO, PPC, and social tools.
Guru: You can get this plan for $229.95 per month. This plan is well-suited for mid-size businesses and agencies. In this plan, you can handle 15 projects, track 1500 keywords, and take advantage of all pro features, plus the Content Marketing Toolkit, multi-location and device tracking, and many more.
Business: This plan is suitable for large agencies and businesses and costs $449.95 per month. In this plan, you can handle 40 projects, track 5000 keywords, and get access to advanced features like PLA analytics, API access, free migration from third-party applications, and more.
Ahrefs
Ahrefs offers four pricing plans for every business, no matter the size.
Lite: It will cost you $99 per month. This plan is ideal for small businesses or teams.
Standard: It is suitable for SEO marketing consultants and freelancers. You can get this plan for $199 per month.
Advanced: You can purchase this plan for $399 per month. It allows you to track 5,000 keywords, along with other premium features.
Enterprise: The enterprise plan is well-suited to large agencies and businesses. Its pricing starts at $999 per month.
Ease Of Use: Semrush vs Ahrefs
Compared to Semrush, Ahrefs is the most user-friendly SEO tool, with a clear and easy-to-navigate user interface. It delivers sufficient key information without being overwhelming, and it allows users to delve deeper into certain metrics.
On the other hand, Semrush also has an excellent user experience; however, it takes some time to get used to due to the volume of data provided and the platform's structure.
In a nutshell, Semrush is not as user-friendly as Ahrefs, and users will need to spend some time understanding the platform before they can begin to take advantage of it.
Pros & Cons: Semrush vs Ahrefs
Here are the pros and cons of Semrush:
Semrush
Pros of Semrush
Cons of Semrush
Offer Free trial 
Advertising toolkit
Social media toolkit
Support only 1 search engine, i.e., Google.
Quite Expensive
Ahrefs
Pros of Ahrefs
Cons of Ahrefs
Supports 10+ search engines
Supports 10+ search engines
Good customer support
No search intent data 
No SMM tools
It doesn't offer a free trial
Free Trials: Semrush vs Ahrefs
Semrush offers a free trial for 7 days, whereas Ahrefs currently does not provide a free trial. Semrush is, therefore a better choice than Ahrefs if you want to test an SEO tool before investing in it.
Difference Between Semrush and Ahrefs
Semrush and Ahrefs differ mostly in the metrics they focus on. For example, Semrush is the best option if your top priorities are performing keyword research and analyzing technical SEO aspects (like website health).
But, if you are someone who invests more time in link building and looking for backlink opportunities, you would benefit more from Ahrefs.
Check out the Semrush comparison guide, Semrush vs SpyFu here
Related Reads:
Final Verdict: Semrush vs. Ahrefs (2023)
In the end, deciding between Semrush and Ahrefs depends on personal needs; each tool has advantages and disadvantages. Ahrefs is well-suited for bloggers and marketers due to its robust backlink analysis, keyword research, and SEO audit capabilities. Meanwhile, Semrush offers a more comprehensive range of features, including PPC data, keyword intent, and Social media toolkit. In addition, Semrush provides a free trial so users can test the software before purchasing it.