Whether you're a website owner or online marketer, you should use the right SEO tool to create an effective marketing plan and expand your organic reach. Unfortunately, there are hundreds of SEO software options to select from, making it difficult to decide which one is ideal for you.
This comparison will assist you in deciding between Semrush and SpyFu, two of the most prominent names in the SEO industry. To help you determine which tool is best for you, we will evaluate both the software in terms of their key and helpful features, cost, customer support, pros and cons, ease of use and many important factors.
So, without further ado, let's get started.
An Introduction To Semrush
Semrush is a powerful and all-in-one SEO suite. It allows you to do site audits, find targeted keywords for your PPC and SEO campaign, and spy on competition to outrank them in Google. In addition to this, you can also find potential backlink opportunities to boost your SEO efforts.
It also lets you check your SERP rankings and keep an eye on your rivals' rankings via its analytics report. You may learn about their SEO tactics and figure out how to apply them to your own strategies.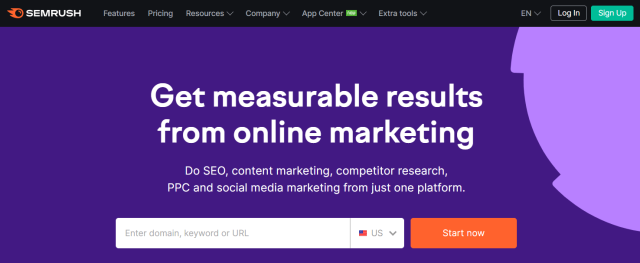 Furthermore, Semrush can also be integrated with a number of third-party tools such as Gmail, Google Search Console, and Google Analytics, to offer a more streamlined experience.
An Introduction To SpyFu
SpyFu is a leading digital marketing platform that assists marketers in improving their marketing strategy. It is a top-notch tool for competitive analysis and keyword research that is perfect for small businesses with a limited budget who want to boost their ranking in online searches.
Moreover, SpyFu helps users to uncover highly profitable keywords in their competitors' organic and paid search campaigns.
A Quick Comparison: Semrush vs SpyFu
If you are in a hurry, check out the comparison table below:
| | | |
| --- | --- | --- |
| Factors | Semrush | SpyFu |
| Website SEO Audits | Yes | No |
| Backlink Analysis | Yes | Limited |
| Pricing | Starts at $119.95 per month. | Starts at $39 per month. |
| Money-back Guarantee | 7-day money-back guarantee | 30-day money-back guarantee |
| Free Trial | 7-days | No free trial is available |
Feature Comparison: Semrush vs SpyFu
Many features of Semrush and SpyFu are similar. Both of them are intended to assist SEO marketers and website owners in boosting their website traffic.
Keyword Research
One of the main benefits of using a tool like Semrush and SpyFu is its rapid and effective ability to identify profitable keywords.
Semrush offers one of the most effective keyword research tools named the "Keyword magic tool". It provides hundreds of keyword ideas as well as advanced filtering options such as broad match, phrase match, exact match, keyword difficulty, exclude or include specific terms, and many more. When compared to Semrush, SpyFu's related keyword results and filtering capabilities are limited.
Other than this, Semrush also has a tool called "Keyword gap" that can help you compare your keyword coverage with competitors and find important keywords you may have overlooked.
With the help of SpyFu's extensive keyword research tool, you can see how each search term you enter is performing as well as statistics on search traffic, volume, daily clicks, and other important metrics. Besides, one of the best features of SpyFu is that it uses Venn diagrams to display all the metrics that will help you understand better.
Verdict – In terms of keyword research, Semrush beats SpyFu.
Competitor Analysis
Semrush and SpyFu beat other SEO tools with their competitor analysis feature. Semrush competes with SpyFu in this area, which is their unique selling point. Both tools provide you with the ability to spy on the SEO and PPC tactics and strategies of your competition.
Furthermore, you can see the rankings of all of their keywords, including the ones that are the most profitable, as well as the ads for paid searches. In addition, you can get a complete picture of which search term your rivals are bidding on and how much traffic they are driving.
There are a few differences between SpyFu and Semrush:
Semrush has limitations on search results with each pricing tier, whereas SpyFu offers limitless search results with its two higher pricing levels.
Semrush is excellent at analysing the PR and social media campaigns of your competitors.
Verdict: There is a tie between Semrush and SpyFu in this segment.
Tracking
Semrush assists you in determining your position for each keyword as well as in evaluating the quality of your backlinks and their impact on your website.
While SpyFu offers weekly reports on your SEO and PPC performance. It monitors your competitors and alerts you if they suddenly become more aggressive in their online strategy. This helps you know when you need to step up your game.
Verdict – Both tools do their best in this area.
Backlink Outreach/ Link Building
Link building is the process of getting other leading websites to link to your website, which helps improve your SEO. Building a strong network can be challenging but is essential for successful link building.
The good news is that both SpyFu and Semrush provide a link-building tool that may assist you in connecting with targeted and highly relevant websites. Semrush will provide a list of the best backlink opportunities for your content or website, saving you the time and effort of having to go through several websites to make your selection manually.
SpyFu, like Semrush, also offer a link-building or backlink outreach tool to increase your visibility to Google. Besides, once you've identified the ideal backlink opportunities for your content, SpyFu can assist you in acquiring the contact information of those websites. This will help you widen your network and interact with other websites to improve your ranking.
Semrush's backlink analysis tool outperforms SpyFu's. SpyFu merely provides backlinks details to your website, but Semrush provides a very detailed analysis of backlinks. It displays all websites that link back to you, your authority score, types of backlinks (do follow/nofollow), domain authority scores that connect to you, and new/lost domains.
Verdict: Semrush is the clear winner.
Customized Reports
All Semrush plans, except the Pro plan, allow you to produce customized PDF reports.
SpyFu allows you to generate custom reports for all their plans. However, the number and kind of reports you want to generate vary depending on the plan.
Pricing: Semrush vs SpyFu
Here are the pricing details for both Semrush and SpyFu:
Semrush:
As you can see in the screenshot below, Semrush has three pricing tiers:
Pro: The Pro plan is priced at $119.95 per month, and if you choose its annual plan, it will cost you $99.95 per month. This way, you can save up to 17% on your annual plan purchase.
Guru: Similarly, if you opt for its annual plan, this will cost you $191.62 per month, and its monthly plan will cost you $229.95 per month.
Business: You can get this plan for $449.95 per month if you select its monthly subscription, but if you go for a yearly subscription, you will get 17% off, which means you will need to pay only $374.95 per month.
SpyFu:
SpyFu also comes with three varied plans and is available in both monthly and yearly subscriptions.
Basic: Its annual plan will cost you $16 per month, and its monthly plan will cost you $39 per month.
Professional: If you select its annual plan, you will need to pay $36 per month. Its monthly plan is priced at $39 per month.
Team: Its monthly plan is set at $299 per month, and its annual plan is priced at $149 per month.
Note: You will get unlimited access to all the data in its Professional and Team plans.
Which Tool Has The Best Customer Support?
Customer support can greatly affect a company's reputation and success. This is especially important for services like SpyFu and Semrush, where the active SEO community may have many questions and issues.
Semrush provides different channels for support, such as phone, live chat, and email. It mostly offers support via email and its extensive knowledge base. Also, they often provide webinars where they introduce new features and tools and offer some useful advice for enhancing your SEO and PPC campaign.
SpyFu offers various channels of communication from phone to email and live chat. Their response times are usually within 24 hours.
In comparison to Semrush, SpyFu's training is limited. Although there are several helpful tutorials and detailed guides on their website for key tools and features, you will discover far more information on its alternative Semrush.
Ease Of Use: Semrush vs SpyFu
For newbies, SpyFu might not be the ideal option. The tool provides a large amount of data, which might be overwhelming for those unfamiliar with SEO. Also, some users may find SpyFu's user interface a bit confusing.
Compared to SpyFu, Semrush is often considered more user-friendly and easy to use, even for new users. It provides a wide range of advanced tools and features that are easy to navigate while also offering vital insights into SEO and marketing campaigns.
Both Semrush and SpyFu are popular names in the SEO industry, and the choice between them ultimately depends on the user's needs and SEO experience. Semrush can be a better place for beginners to start, but more seasoned marketers might appreciate the richness of data offered by SpyFu.
Pros & Cons: Semrush vs SpyFu
Here are the advantages and disadvantages of Semrush and Spyfu:
Pros of Semrush
Offers content marketing and social media monitoring tools
Effective keyword research
Provides site audits 
Excellent customer support
Cons of Semrush
Semrush is quite expensive
Provide data for Google
Pros of SpyFu
Excels at competitor analysis
Basic plan offers superb value
Less expensive
Excellent for both PPC and SEO research
Cons of SpyFu
Lacks social media monitoring and content marketing tools
Not so user-friendly
No technical SEO Audit Tool
Free Trials: Semrush vs SpyFu
Semrush offers a free trial for 7 days to help you decide whether you should purchase it or not. While Spyfu, unlike Semrush, does not provide a free plan or trial. However, the Spyfu support team claims that the tool will be available for free to all customers who require it. To request a free plan, you must contact their support team. They will review your request and make a decision depending on your needs.
Alternatives To SpyFu And Semrush
The main competitors of SpyFu And Semrush are all-in-one SEO tools such as Ahrefs, Moz, and Serpstat. These all-in-one solutions provide a bundle of tools with the same features as Semrush and SpyFu.
Ahrefs
The very first alternative is Ahrefs which is a popular all-in-one SEO platform. Similar to Semrush, it is also recognized as one of the most powerful SEO tools available and is a favourite among SEO specialists.
Moz
Another top contender of Semrush and SpyFu is Moz. It includes many of the same features as SpyFu but differs in that it has a large backlink database and strong competition analysis tools.
Serpstat
Serpstat is another excellent alternative to Spyfu and Semrush. It is an all-in-one SEO solution that also offers tools for content marketing and PPC research.
Related Read:
Final Verdict – Semrush vs SpyFu (2023)
An ideal SEO tool can help you to save time on keyword research, competition analysis, rank tracking, backlink analysis and many other SEO tasks. With this comparison guide between Semrush and SpyFu, we aimed to provide you with detailed information on each tool's features, pricing, pros and cons, and many other crucial areas.
In our opinion, Spyfu is less expensive and is perfect for smaller agencies, startups, and individual digital marketers who want to concentrate on the key KPIs that will push them to Google's first page
On the other hand, Semrush has a significantly larger keyword, content, and backlink database. It is designed for everyone from the average marketer to large organizations or agencies. Furthermore, Semrush also offers a free trial to test its features and tools before making a purchase decision.