Is Grammarly Better than ProWritingAid?
Or is ProWritingAid better than Grammarly?
Both tools have thousands of users worldwide, but which one is better than the other?
As someone who used both tools, this Grammarly vs ProWritingAid comparison will answer all your queries and make your pick easier!
In this article, I have compared ProWritingAid and Grammarly based on various parameters, so you will know which one is ideal for you.
In the end, I have also provided my recommendations in selecting the right tool, so make sure you read the post until the end!
With that, let's get into our detailed comparison.
Grammarly vs ProWritingAid: The Ultimate Comparision
With top-notch similarities, which tool ultimately's beats the other?
Check out this quick comparison between ProWritingAid vs Grammarly below!
Note: based on my experience using both tools, I will be rating each parameter out of 5.
| | | |
| --- | --- | --- |
| Parameter | Grammarly | ProWritingAid |
| Grammar Checker | 4.5 | 4.6 |
| User Interface | 5/5 | 4.5/5 |
| Customer Support | 5/5 | 4.6/5 |
| Plagiarism detector | 4/5 | 3.5/5 |
| Personalized suggestions | 4.7/5 | 4.2/5 |
| Feedbacks on writing | 4/5 | 5/5 |
| Apps and Integration | Has mobile app | Does not have mobile app |
| Free version | 5/5 | 4/5 |
| Pricing | $12/month | $6.58/month |
| Overall rating | 4.6/5 | 4.5/5 |
Grammarly vs ProWritingAid: Overview
As we will be discussing both tools in detail ahead, let's go through a quick overview first.
Grammarly Overview
With over 30 million users globally, Grammarly has been the number one AI writing assistant for students, working professionals, writers, teachers, and more.
Packed with powerful features, Grammarly assists in writing grammatically correct content with better clarity.
Moreover, you can customize your settings according to your needs and deliver content that matches your brand voice and also has a built-in plagiarism detector.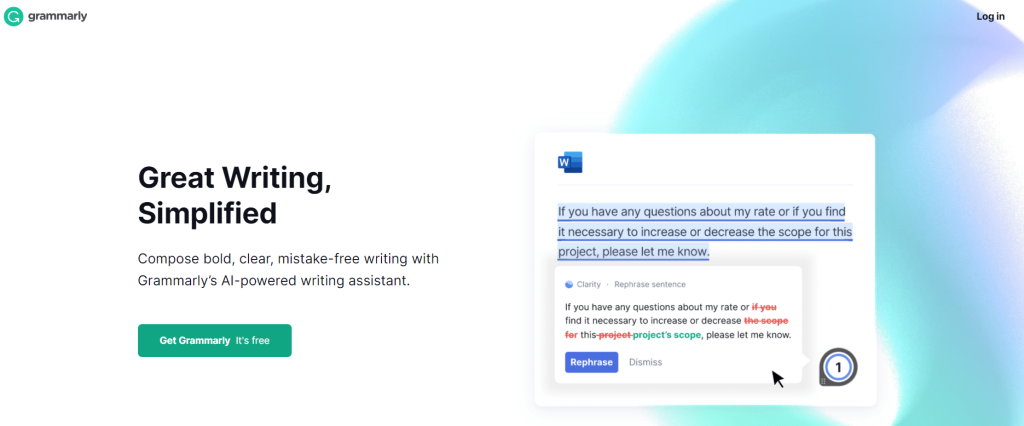 Lastly, it comes with a free version that offers basic corrections. However, upgrading to the premium version will give you access to additional features.
ProWritingAid Overview
ProWritingAid is an AI-powered writing assistant that scans your content thoroughly for grammatical errors, style, tone, and more.
Using ProWritingAid is quick and doesn't need prior experience. Besides checking your content, it also has 3000+ tutorials and guides to help you learn and write better.
Furthermore, the tool also has a feature of a "human proofreader" where you can hire an experienced proofreader to check your content properly.
Packed with additional functionalities, ProWritingAid works seamlessly for students and working professionals.
Grammarly vs ProWritingAid: Key Features
Both Grammarly and ProWritingAid have a lot to offer. However, here are my favorite features of ProWritingAid and Grammarly.
Grammarly Key Features
Tone detector that can be customized according to your text.
Provides synonyms to replace overused words.
Genre-specific suggestions.
Points confused prepositions.
Plagiarism detector.
Comes with mobile and desktop applications.
Good customer support.
Personal dictionary feature.
ProWritingAid Key Features
Thoroughly checks grammar and spelling errors.
Helps in picking redundant sentences and overused words.
Lets you hire a human proofreader.
Detailed writing report.
Plagiarism report with detailed scans.
Contextual thesaurus report.
Excellent guides and live lessons.
Word explorer.
Which Has A Better Interface- Grammarly Or ProWritingAid?
Now let's talk about the most crucial parameter that I judge any grammar checker tool on -User interface!
No matter how well the tool is or how excellent the features are, it may not be the right fit for everyone if the interface is complex.
Either way, let's review which tool has a better interface.
Grammarly User Interface
Grammarly has one of the most beginner-friendly interfaces out of all the grammar-checking tools.
The design is clean, and the interface is the same across the online editor, mobile app, and desktop app.
Once you paste or upload your content, it will underline all the errors, and you can make the changes by tapping on them.
Grammarly underlines the errors with different colors so you will know what each underlines indicate.
For instance, the red color is for spelling and grammar errors. At the same time, the blue is for clarity and wordy sentences.
The colors do not change when you use Grammarly via a mobile app or desktop app, which makes it easier to understand Grammarly's interface no matter where you use it.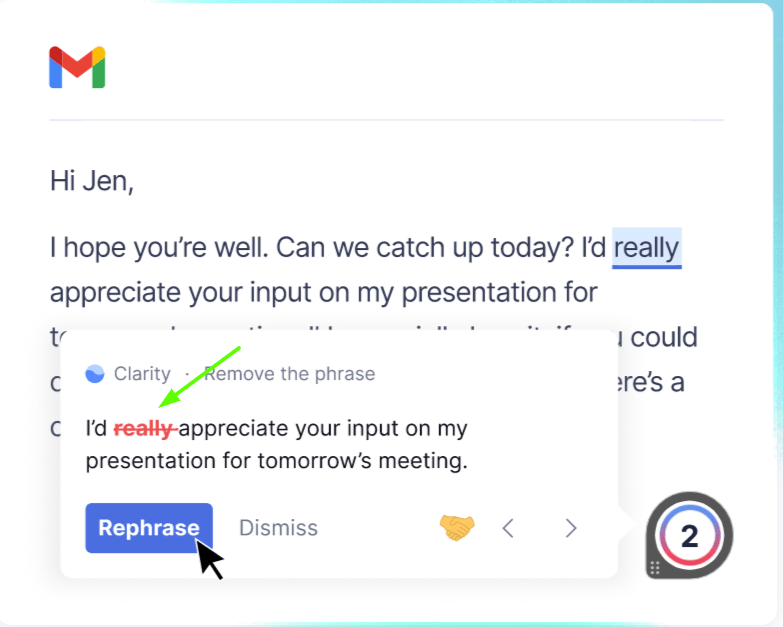 Moreover, you can also see why certain things are underlined with a detailed explanation.
Now if you write content for a different purpose, you can customize the settings by tapping on the "Goals" section. This section allows you to set domain, audience, intent, and formality levels.
Based on these goals, you will get suggestions.
Furthermore, you can check plagiarism by tapping on the plagiarism option at the bottom right. Also, Grammarly gives you a readability score based on your content.
The score fluctuates when you make the corrections.
Clearly, you do not need any prior experience or tech background to know how to use Grammarly. You can get started and use Grammarly anywhere!
ProWritingAid User Interface
If we talk specifically about ProWritingAid's user interface, it's pretty straightforward too.
Similar to Grammarly, you can upload or paste your content, and it will automatically underline the errors.
You can just hover your mouse over the underlined word/sentence, and ProWritingAid will show the changes. To make changes, you just need to click on it!
Additionally, it also gives you a document score that works similarly to Grammarly's score. You can improve the score by making the changes by ProWritingAid.
If you want to explore additional options, you can click on the small icon at the bottom right. It will show you all the other tools like a thesaurus, plagiarism checker, and more.
While the grammar-checking interface is fine, the only thing I didn't like was that the main page looks cluttered with too many options at the top.
It took me a few minutes to understand where I could check my content from.
My Verdict: Overall, using ProWritingAid and Grammarly is no rocket science. Both have a straightforward interface with all the options easy to navigate. However, Grammarly takes the win here when it comes to a cleaner interface. Comparatively, it has options clearly visible with a brighter interface.
Which Has A Better Grammar Checker?
Time to check the most important parameter of this review!
Since both tools are primary grammar-checking tools, it is impossible to pick one without checking which tool offers better suggestions when it comes to grammar.
I reviewed both tools to see how it was able to detect the errors.
Let's check out below!
Grammarly: Accuracy
Grammarly can detect the majority of grammatical errors throughout your content. From spelling errors to unclear sentences, it can help in various ways.
Usually, I can see how Grammarly's algorithm works and how it helps in pointing out common mistakes, depending on the language you picked.
Additionally, while reading or editing your content, you might miss out on small issues. Thanks to Grammarly, it can pick up the mistakes you leave quickly.
While it helps in various aspects, it is not entirely accurate and reliable.
To put it simply, it cannot replace human editors or proofreaders.
This is because when you check the suggestions of Grammarly for wordiness or clarity, you will see a lot of its recommendations change the meaning of what you are trying to say.
Changing voices can also affect the tone of your message. Now, if I want to write something informal, it will keep suggesting removing words like "really," "which is why," and more.
To conclude, Grammarly's accuracy can help in terms of spelling errors and grammatical mistakes. However, if you are using personalized words or brand names that do not exist in Grammarly's dictionary, it can point out as a wrong spelling.
So, you can double-check before accepting all the suggestions and do the ones that make sense!
ProWritingAid Accuracy
Similar to Grammarly, ProWritingAid can pick up your spelling errors, punctuation, and other grammatical errors quickly.
Additionally, it doesn't show error for the words that makes sense throughout your content -a feature that beats Grammarly.
It works perfectly to handle fragmented sentences, which Grammarly lacks.
If you are an author or a fictional writer, you will love how ProWritingAid does not make you questions your writing style by making it sound too formal.
Furthermore, you can also see ProWritingAid picking out more errors than Grammarly in many cases.
On the other hand, I wouldn't recommend ProWritingAid for formal content. This is because if you are sounding informal in the content, you won't be able to pick out these errors through ProWritingAid.
However, if you want to write fiction or informal content, ProWritingAid can be an amazing pick!
Integrations/Apps Options By ProWritingAid And Grammarly
Whether you are a student or a working professional, you are not going to carry your laptop everywhere.
This is why I always prefer a grammar-checking tool that will help me write anywhere. Moreover, it shouldn't restrict me on where I can use the tool.
With that, let's see integrations and app options by Grammarly and ProWritingAid.
Grammarly Apps/Integrations
Grammarly's availability is excellent and impressive.
You can download Grammarly's mobile app for iOS and Android. In addition, you can download computer apps for Mac and Windows.
If you are not someone who likes to go with dedicated apps, you can use the online editor.
Now if I talk about integrations, Grammarly has extensions for Chrome, Safari, Firefox, and Word.
If you are using the browser extension, you can use Grammarly everywhere you type!
These include Twitter, WordPress, Gmail, social media platforms, Google Docs, or basically, everywhere you are typing.
ProWritingAid Apps/Integrations
ProWritingAid comes with various extensions too. It has dedicated apps for Windows and Mac.
Moreover, it has integrations for Chrome, Safari, Edge, and Firefox. It directly integrates with Google Docs and Word too.
With browser extensions, you can use ProWritingAid anywhere.
My Verdict: In terms of integrations, both have similar capabilities. However, Grammarly comes with a mobile application, whereas ProWritingAid doesn't have a dedicated mobile app. If you are using mobile to edit, you can opt for Grammarly's mobile app.
Grammarly vs ProWritingAid: Plagiarism Detector
Both tools have their built-in plagiarism detector. While many tools claim to provide plagiarism detectors, not everyone offers accurate results.
Let's see how reliable and accurate ProWritingAid and Grammarly's plagiarism checker is.
Grammarly Plagiarism Detector
Grammarly's plagiarism detector scans your content through billions of web pages online and alerts you if your content is plagiarized.
It will also show you the source from where the content is copied.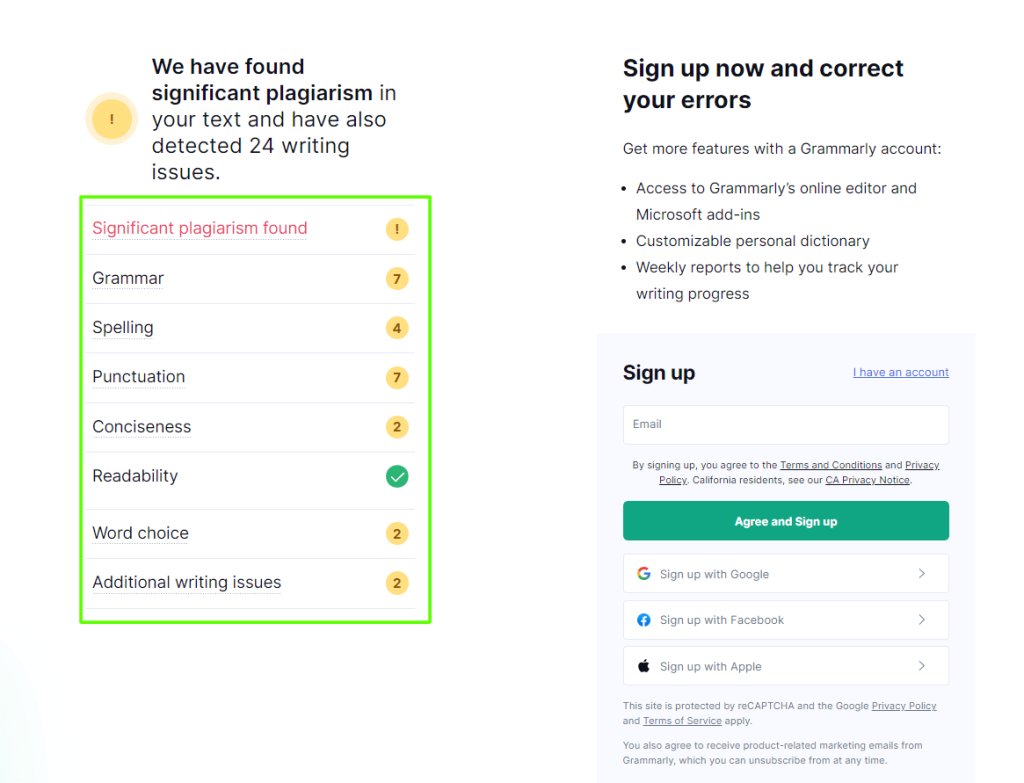 However, Grammarly's plagiarism detector is not entirely reliable. Compared to Copyscape, the plagiarism detector is not totally accurate. But you can use it if you are a student or need a quick check.
ProWritingAid Plagiarism Detector
ProWritingAid's plagiarism detector checks your content from billions of published content online. The plagiarism detector is reliable and secure.
If I talk about its accuracy, it was able to detect plagiarism in many cases.
However, ProWritingAid limits the number of checks allowed based on the plan you pick. But with Grammarly, you don't have any restrictions or the number of checks you can do.
As long as your plan is active, you can check unlimited content for plagiarism.
Which Has Cheaper Pricing Options?
Now that you know about what it offers and how both tool works, let's see the pricing plans of ProWritingAid and Grammarly.
Grammarly Pricing
Grammarly provides a free version that helps you with the basic corrections. The free version works fine for students or people who need a quick correction to their content.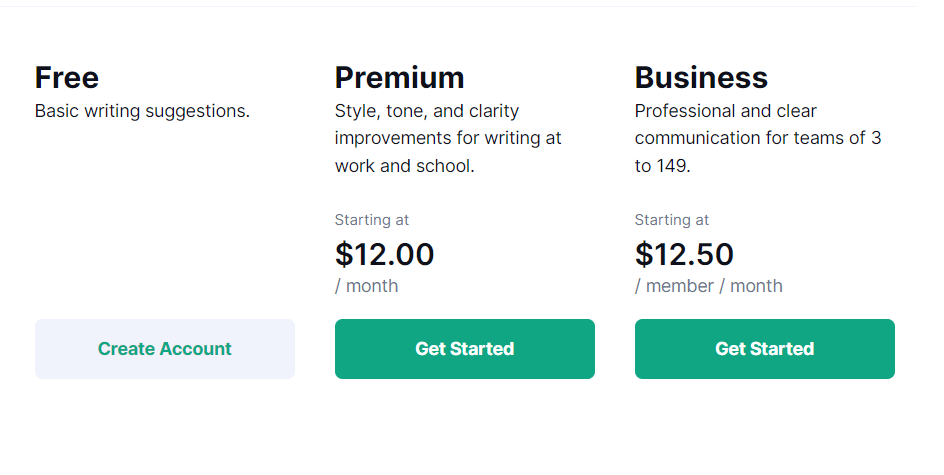 However, you can purchase Grammarly monthly, quarterly, or annually.
Here is a quick overview of Grammarly's Pricing.
| | | |
| --- | --- | --- |
| Plan | Price Per Month | Annual Plan |
| Monthly | $30 | $360 |
| Quarterly | $20 | $180 |
| Annually | $12 | $144 |
Compared to a monthly plan, I'd recommend opting for the annual plan as you can save more.
If you just want to try Grammarly premium for one month, you can test with the monthly plan, then move to the annual subscription.
ProWritingAid Pricing
Similar to Grammarly, ProWritingAid comes with a free plan. The free plan has restricted features with basic corrections.
However, the premium plans give you access to all the features of this amazing tool.
ProWritingAid provides three plans which are as follows:
| | |
| --- | --- |
| Plan | Price |
| Monthly | $20/month |
| Yearly | $6.58/month |
| Lifetime | $399 (one-time payment) |
The catch here is its lifetime plan.
The lifetime plan comes with a one-time payment and includes lifetime updates and support. So, if you want to save money and use the tool without worrying about recurring payments, the lifetime plan can be the best pick.
This can be an excellent pick for users who love using ProWritingAid. However, if you are not planning to use the tool for your life (let's be practical here. No one sticks to one tool for life), you can go with the yearly plan.
The annual plan of ProWritingAid is cheaper than Grammarly's!
Pros And Cons Of Grammarly
Grammarly is excellent, but it also has its drawbacks. Here is a quick overview of the pros and cons.
| | |
| --- | --- |
| Pros | Cons |
| Excellent features even in the free version. | The extension for Google Docs is not 100% reliable. |
| Provides real-time editing on different applications. | The plagiarism checker is not entirely accurate. |
| Detailed analytics and reports. | |
| Accurate grammar correction. | |
| Helps in improving your writing skills. | |
| Beginner-friendly and minimal interface. | |
Pros And Cons Of ProWritingAid
Now let's go through the pros and cons of ProWritingAid.
| | |
| --- | --- |
| Pros | Cons |
| Provide more than 20+ reports. | The features are restricted in the free version. |
| Offers real-time feedback | It lacks a mobile app. |
| Integrates with all the popular apps and tools. | The interface may look cluttered in the beginning first. |
| Has a lifetime plan. | |
| Works best for students. | |
Related Read:
Final Verdict On ProWritingAid vs Grammarly (2023)
Now that we have reached the end of the comparison, it is time to decide which one is right for you.
Let me help you with my quick recommendations.
Choose Grammarly: If you want to write grammatically correct content with better clarity and tone consistency. It is ideal for working professionals, students, and writers.
Choose ProWritingAid: If you want to write fictional content, need detailed writing reports on your content, or are using weaker verbs in your content.
If you are still confused about picking one, you can test the free version of Grammarly and ProWritingAid and decide which one is ideal for your writing needs!
FAQs
Is Grammarly than ProWritingAid?
Grammarly and ProWritingAid both serve different audiences' needs. Both have powerful features, but Grammarly takes a catch in having a straightforward interface and better availability. 
Which tool is cheaper, Grammarly or ProWritingAid?
ProWritingAid offers more affordable plans than Grammarly. The annual plan of ProWritingAid is $6.58/month, whereas Grammarly's plan is $12/month. 
Is ProWritingAid better than Grammarly for students?
ProWritingAid is better for fiction writers and authors, considering it focuses more on the content's style and structure. On the other hand, Grammarly focuses on grammar, punctuation, and clarity. So, Grammarly is better for students who want accurate content. 
Which tool is good for writers -Grammarly or ProWritingAid?
If you are a fiction writer, you can pick ProWritingAid. Similarly, Grammarly is good for writers who write formal content.